City Launches "Safe Sidewalks LA" Sidewalk Repair Program
Posted by Councilmember Englander on December 02, 2016 at 3:24 PM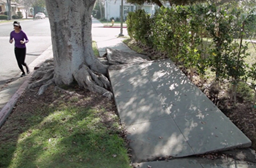 This week, The City of Los Angeles launched "Safe Sidewalks LA" Sidewalk Repair Warranty and Sidewalk Repair Incentive Program. The comprehensive 30-year sidewalk repair program provides an unprecedented City investment of $1.4 billion to fix its sidewalks, making them accessible to everyone and renewing them as a center of civic life and pride. 
 

The program was unanimously approved by City Council after nearly three years of public dialogue, led by the Council's Budget and Finance and Public Works and Gang Reduction Committees in collaboration with the Mayor's Office, and bolstered by input from hundreds of residents from across the City. Safe Sidewalks LA is spearheaded by the City's Bureau of Engineering in close coordination with many departments and agencies, notably the Department on Disability, which will play a vital role in the program's implementation.
 
While repairs surrounding City facilities, such as fire stations, police stations, parks, libraries and recreation centers, are currently in progress, this next phase is an expansion of the repair program that will address broken sidewalks and will prioritize repair requests from people with disabilities, their families and caretakers. Through a cost-sharing initiative, this next phase will also offer a limited number of rebates to property owners who are willing to fix their own sidewalks. 
 
Specifically, Safe Sidewalks LA includes:
Rebate Program: A limited-time rebate for eligible property owners willing to pay for their own sidewalk repairs and get them fixed in an accelerated time. Owners can receive up to $2,000 for a residential lot or $4,000 for a commercial lot. The rebate program will be available for three years. 
Access Request Program: Gives priority repair requests to people with a mobility disability who encounter physical barriers due to broken sidewalks, missing curb ramps or other barriers in the public right of way. 
The program also gives community members the ability to report a sidewalk in need of repair. 
To submit a sidewalk repair request, go to www.sidewalks.lacity.org or call 3-1-1.
Sign up for the newsletter