Englander Honors LAPD Reserve Officers during National Volunteer Appreciation Month
Posted by Councilmember Englander on April 24, 2016 at 9:27 PM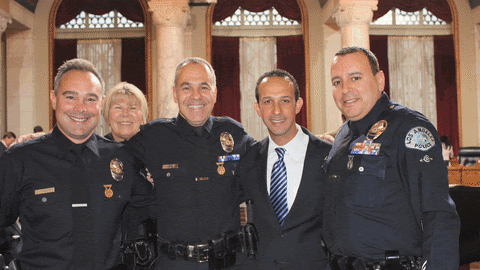 On Tuesday, I was honored to stand with my colleague Councilmember Joe Buscaino, and my fellow Los Angeles Police Department (LAPD) Reserve Police Officers as we celebrated the month of April as National Volunteer Appreciation Month. 
The Los Angeles Police Reserves Corps is comprised of community members who volunteer their time to fulfill many of the roles handled by full-time sworn police officers. Reserve Officers receive the same training as full-time officers and work alongside them in every aspect of Department operations. With hundreds of active reserve officers, the Los Angeles Police Reserve Corps is the largest Police Department Reserve Unit in California. These officers are the ultimate volunteers and put their lives on the line to selflessly serve our community. 
Click below to learn more about the LAPD Reserve Program...
-Mitchell Englander, Councilmember Twelfth District
Sign up for the newsletter