OPERATION WHO'S THERE: Offering a $50,000 Reward to Stop Knock-Knock Burglaries
Posted by Councilmember Englander on April 21, 2017 at 5:21 PM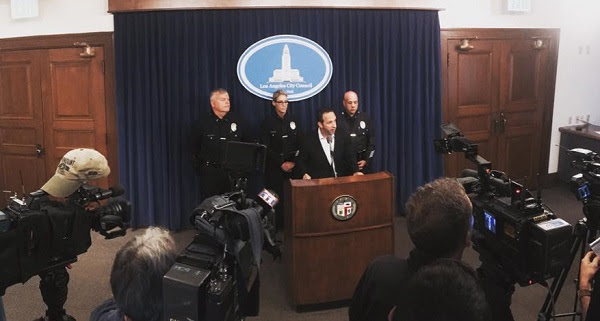 This week, Council unanimously passed my motion to support the Los Angeles Police Department (LAPD) and offer a $50,000 reward for information leading to the identification, apprehension, and conviction of the persons responsible for the series of knock-knock burglaries and those that purchase stolen property from "knock-knock" burglars across the City of Los Angeles.

This motion follows over 1,700 reports of residential burglaries throughout Los Angeles from January 1 through March 1. At least 25% of Knock-Knock burglaries are in the San Fernando Valley with Granada Hills, Porter Ranch, and Chatsworth being the most affected areas in Council District 12. "Knock-knock" crews are sophisticated and are responsible for a high number of these crimes.
These crimes represent an ongoing threat to the safety of the people of Los Angeles. The crews work to identify potential victims, break into their homes, ransack rooms for valuables such as cash, jewelry, and weapons, and flee the scene within minutes. In each case, a suspect approaches a targeted home and knocks on the door to determine if anyone is home before starting the burglary.

In cases where a homeowner does not hear the knock or ignores it, the victim can be confronted with a crew of criminals engaged in a "hot prowl" burglary or a home invasion.

After fleeing a victim's home, the suspects often pawn off valuables, and weapons taken during these crimes often end up in the hands of street criminals.

LAPD Detectives are working diligently and are continuing to investigate these crimes. We believe that a reward may compel the public to provide information on the identity of the persons responsible for these crimes.

Anyone with information related to this criminal activity is urged to call (818) 374-7730. Anonymous tips can be called into Crimestoppers at (800) 222-TIPS (8477). You can also text "LAPD" and the tip to 274637 or go to www.LAPDOnline.org.

Click here to listen to my John and Ken interview.

Click below to view the video coverage from ABC 7.

Sign up for the newsletter